Global Warming, Ravaged Wood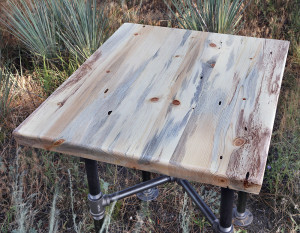 Mountain pine beetle infestations continue to grow on public and private lands in Colorado and Wyoming. More than 1.5 million acres of forest in northern Colorado and southern Wyoming are affected by the mountain pine beetle epidemic, which was triggered by an extended drought in the late 1990s and early 2000s.
By about 2012, beetles will have killed nearly all of the mature lodgepole trees in northern Colorado and southern Wyoming.  Besides affecting watersheds, future timber production, wildlife habitat, recreation sites, transmission lines, and scenic views, beetle-killed trees also present a fuels build-up situation that could result in catastrophic wildland fires.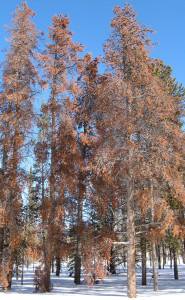 Across western North America, in millions of acres of pine forest, the story is the same. Drive through parts of Colorado, and you'll encounter entire mountainsides painted with rust. From valley bottoms all the way to the tree line, nearly every single pine has been killed by an enemy smaller than a thumbtack: the mountain pine beetle. Tour British Columbia, and the scale of destruction is even more appalling. More than 44 million acres of pine trees there, an area the size of Missouri, have been attacked to varying degrees over the past 15 years.